e-POM is here to help you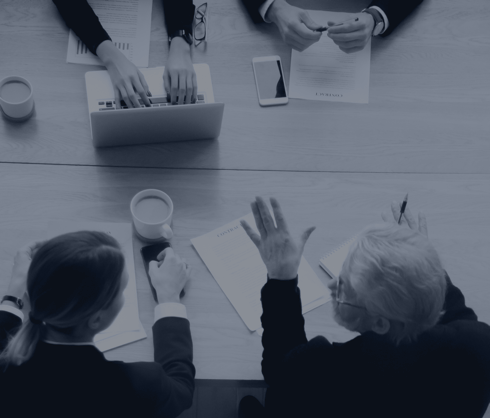 Why e-POM?
Disputes between online marketplaces and their business customers can be hard to resolve – not to mention expensive and time consuming. And it's even worse when the two sides are based in different jurisdictions.
Most online selling goes without a hitch, but if you run into problems, our easy-to-access online mediation takes just six weeks from start to finish, and comes with a low fixed fee. The agreements are binding, and e-POM takes care of all the formalities.
Get started
e-POM mediators help settle disputes between online platforms and their business users all over Europe
Is your business in dispute with an online platform?
Has your account been discontinued or suspended?

Are you unhappy with your ranking?

Do you feel treated unjustly?

Did the platform refuse your app?
Wouldn't it be great to settle things quickly and fairly, without the cost and hassle of litigation?
e-POM was set up to do just that. Our Pan-European service is dedicated to resolving disputes between online platforms and their business users.
Our mediators are impartial and independent qualified neutrals with business knowledge and a legal background and we are the only provider with accredited negotiators in all EU countries, plus the UK.
Fast resolution
Complaints and disputes settled within six weeks.
High success rate
95% of our mediations resolve the dispute
Professional mediators
All e-POM mediators are certified in their own jurisdiction.
Low fixed costs
€750 + VAT for each party
Video conferencing
Online live mediation sessions – no need to travel.
Multilingual
Our mediators speak your language.
Safe and reliable
Your mediated settlements are legally binding.
Easy to set up
Begin the process in just five simple steps.
How it works
Mediation is almost always cheaper than hiring a lawyer and going to court. But e-POM cuts the cost even further by using online mediation and an easy five-step registration process: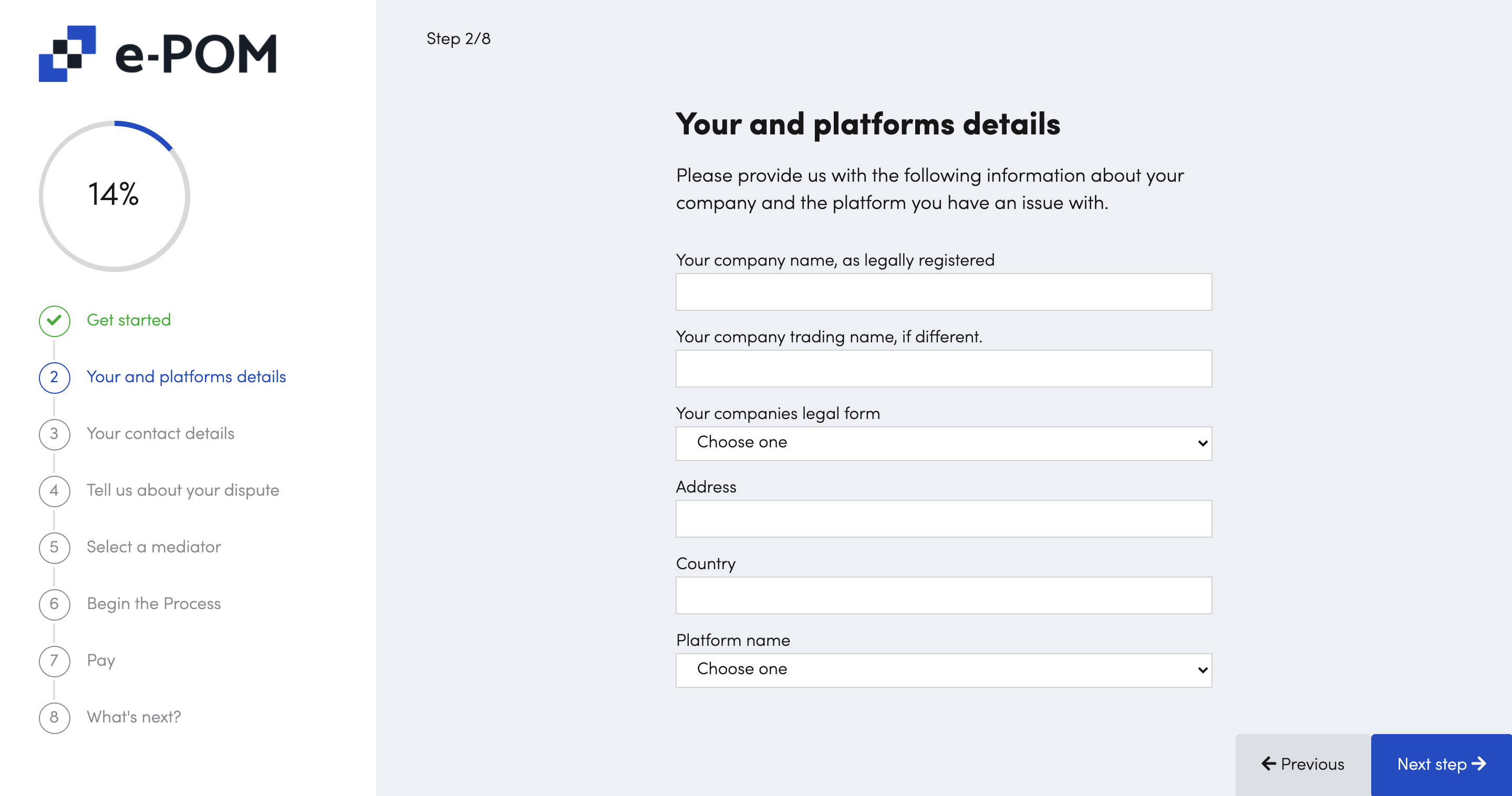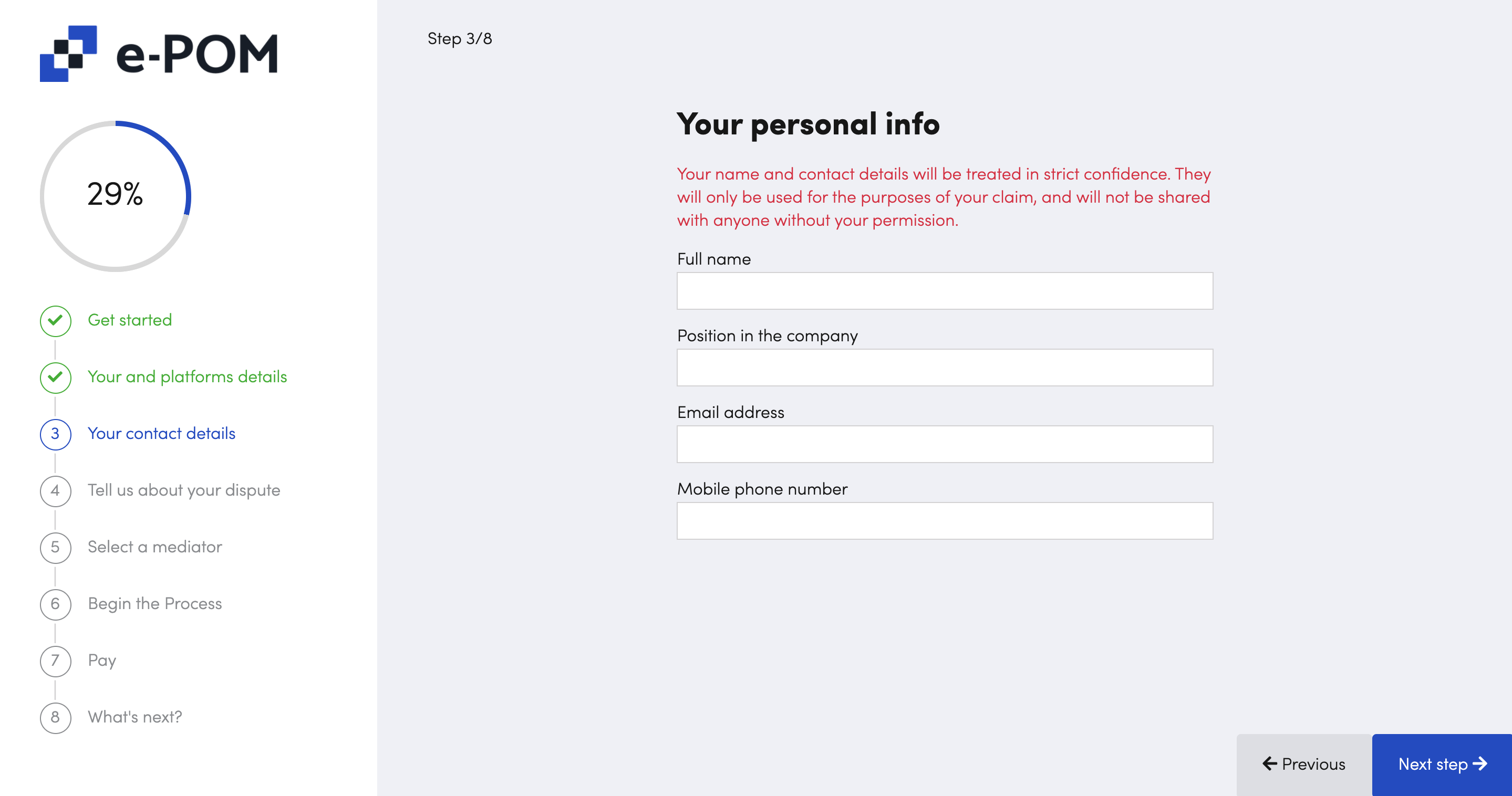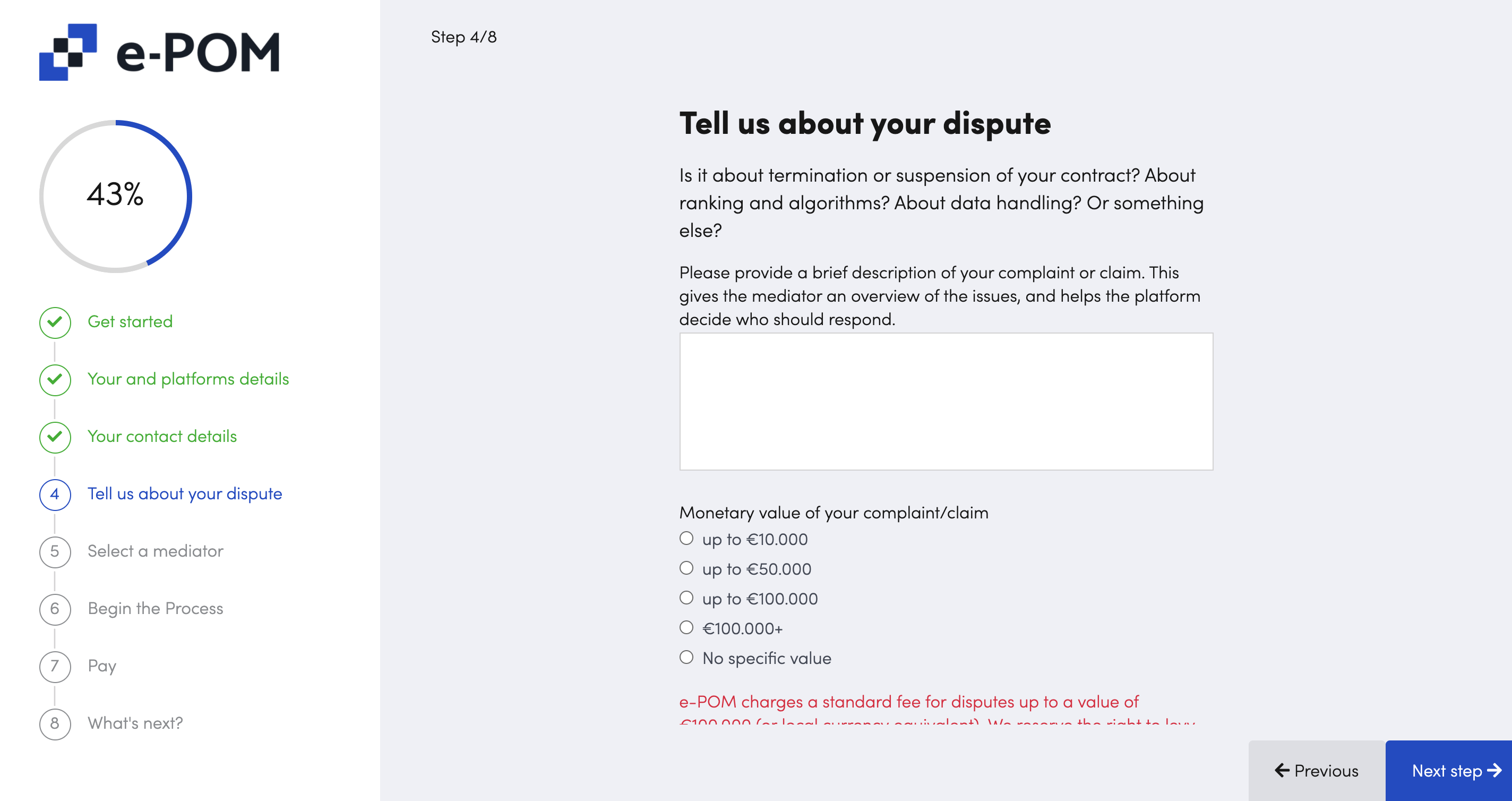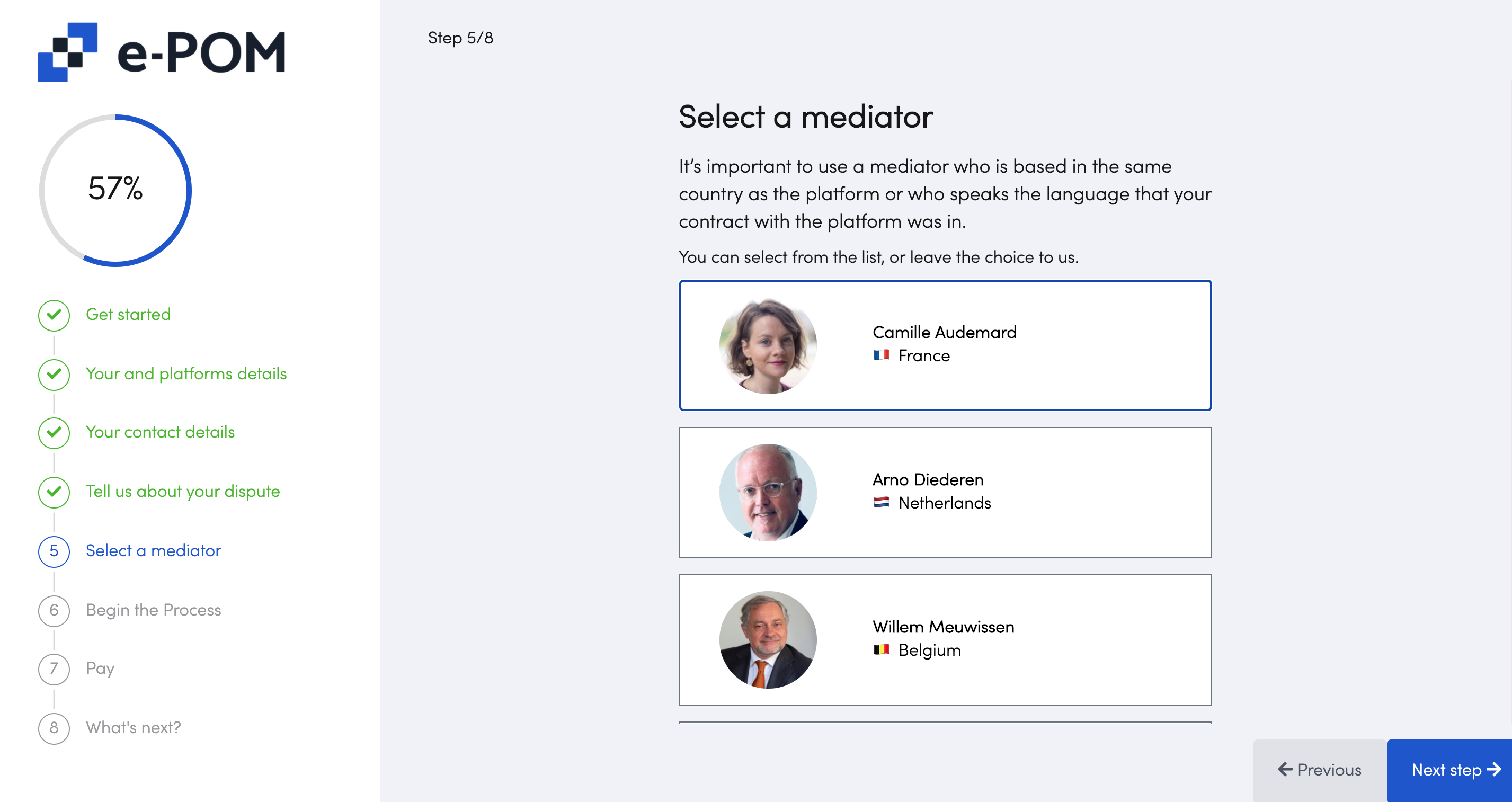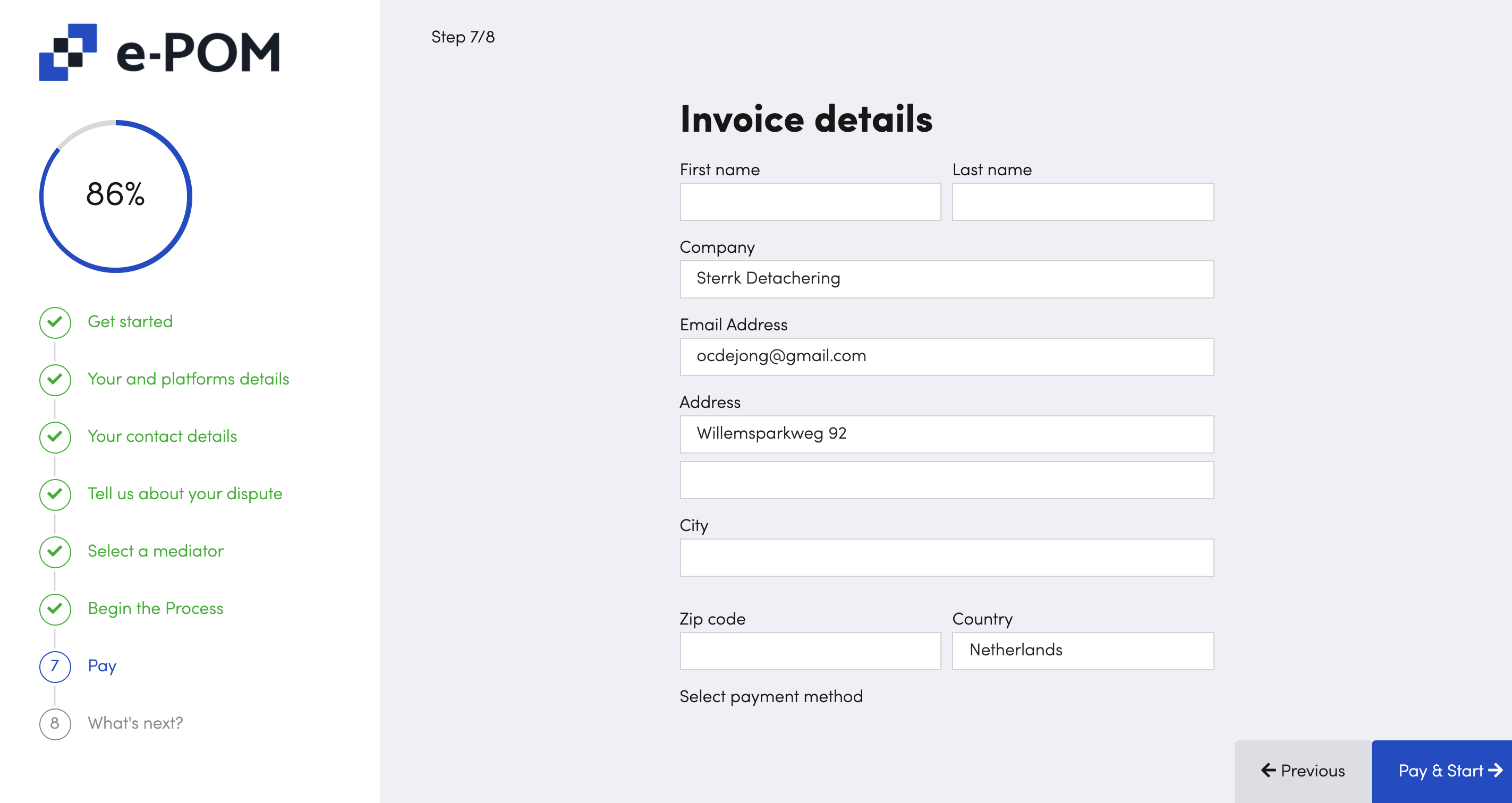 e-POM is for resolution of disputes with most online marketplaces active in Europe
We have a large pool of mediators in the EU and the UK.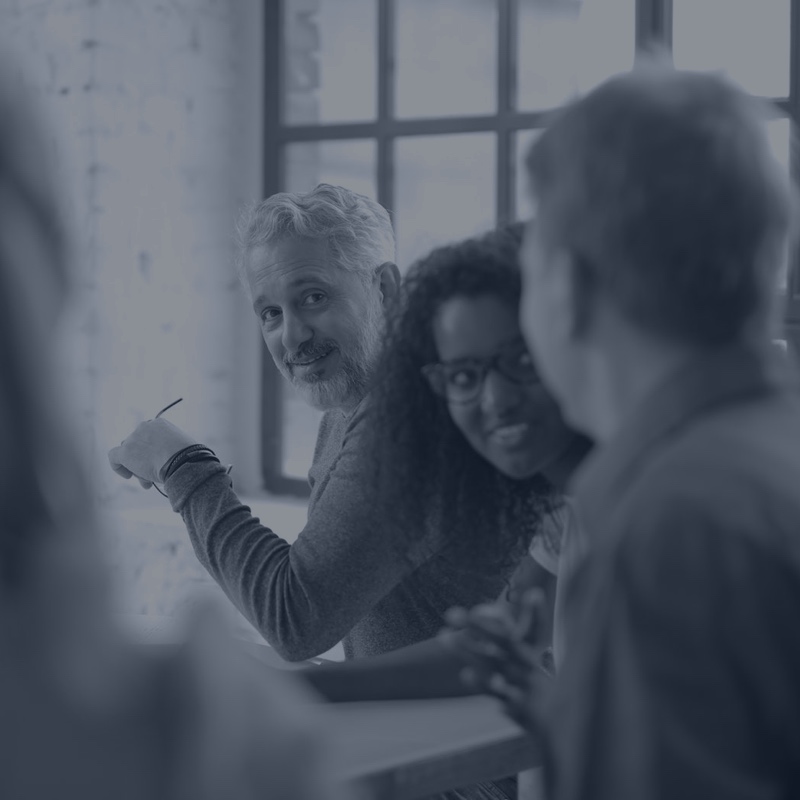 The new rules
EU Regulation 2019/1150 is designed to promote fairness and transparency of business for users of online platforms. From 11 July 2020, online platforms operating in the EU and in the UK must nominate at least two mediators who they will work with to settle disputes with business customers.
Realising that it would be difficult for platforms to find the right mediators – and even harder for their business customers – I contacted colleagues throughout Europe, and we agreed to set up e-POM (European Platform for Online Mediation). Like the platforms themselves, e-POM is international, with local mediators available in every EU country, and in the UK. We are delighted that so many platforms have already nominated e-POM as a service provider of independent mediators, and we hope many others will follow.
Bart Neervoort, founder
Frequently asked questions
Further questions?
Feel free to contact us if you have a different question about e-POM